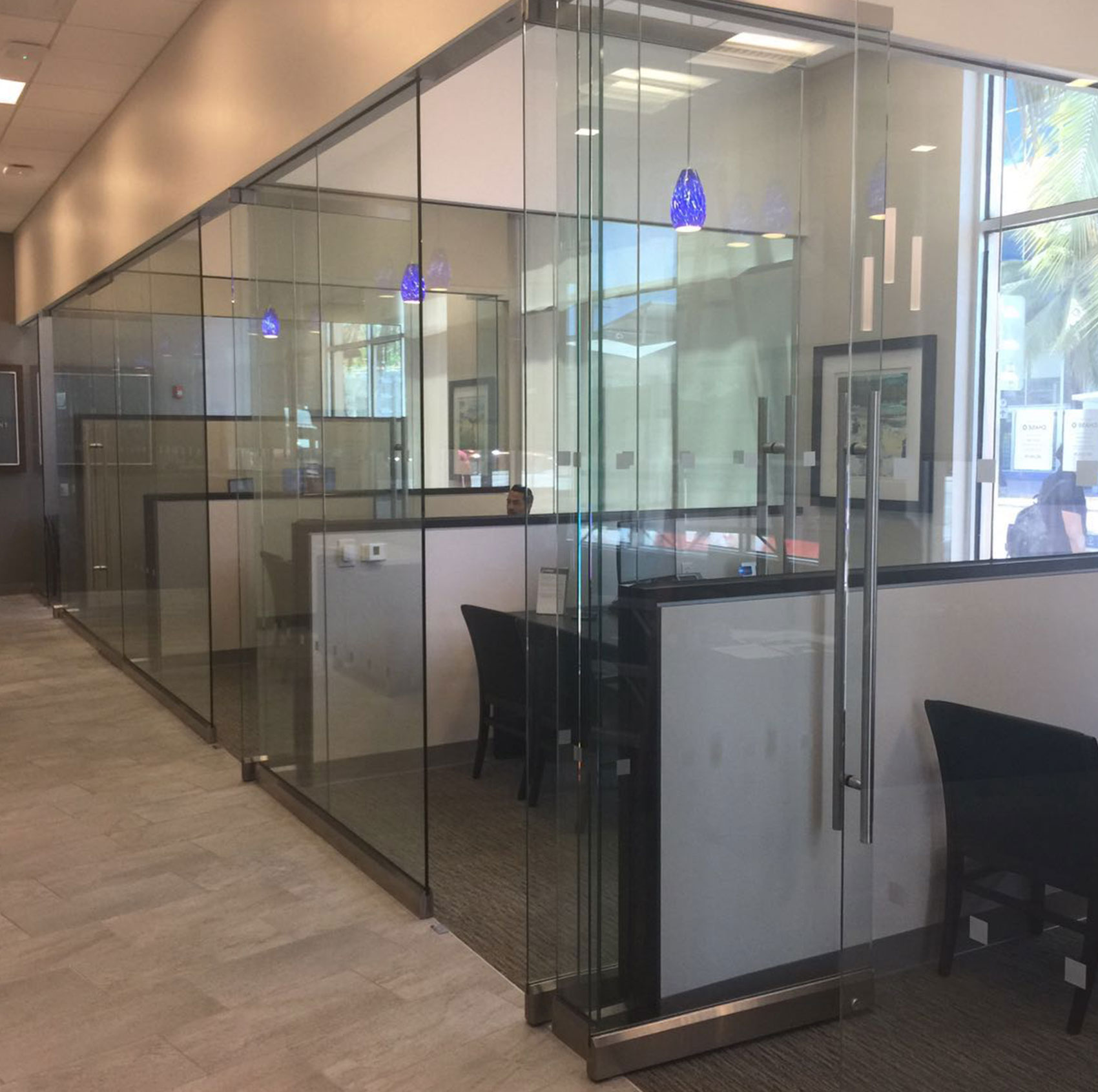 Glass Office
Frameless glass office partitions have long been a popular design element for commercial spaces such as offices, restaurants, hotels and spas. Over the years, designers and architects relied on this space-saver for smaller urban dwellings, where the transparency of glass can both preserve and define space.
Which type of frameless glass suits your style? Our style options for frameless glass walls include richly colored glass for privacy and light reflection as well as classic, ultra-clear and patterned glass panels.
We provide glass office window installation and repair services in the South Florida area ranging from Miami, Miami Beach, Fort Lauderdale, Kendall, Coral Gables, Weston and all the way to Broward county. Nobody knows glass office windows like us.
Whether you are renovating or building, add a touch a class to your property. Our custom fit glass and mirrors add great beauty and function to your home or office.
Our mission is to provide the finest quality glass office installation / replacement with the best possible service at the most competitive price. Your complete satisfaction is very important to us.
Thank you ABC Glass Repair Service, you did a great job!!! Fast, convenient and cheaper than other companies. Their 24/7 service was a life saver! Thank you!!!

I couldn't believe how quick and easy it was to get a large chip and a little one repaired! Abel was on time and got the job done quickly! He really knows what he's doing. It was fascinating watching how he makes the repairs! Highly recommend him!

The service tech was exactly on time and did spent the time to fix the crack correctly. Tech was very knowledgeable and friendly. Will definitely call ABC Glass Repair anytime I have another crack! Loved the service.
24/7 Emergency Glass Repair
Lee County
Miami-Dade & Broward County
We thank you for your interest in ABC Glass Repair.
To request a free estimate or service, please contact us by phone.  We are available 24/7. If you still have a question or need a quotation, please fill out this form. We look forward to serving you. 
Hablamos Español
We proudly serve the following areas:
Lee County
Bonita Springs
Cape Coral
Fort Myers
Lehigh Acres
Marco Island
Naples
Miami
Miami Beach
North Miami Beach
Coral Gables
Key Biscayne
Fountain Blue
Westchester
Miami Springs
Tamiami
North Miami
Opa Locka
Hialeah
+ More
Broward
Hollywood
Fort Lauderdale
Pompano Beach
Naples
Sunrise
Plantation
Davie
Miramar
Cooper City
Pemboke Pines
Aventura